The Threat
On the 7th July, the President of the United States of America suggested a ban of TikTok could come into force, one day after similar comments by his Secretary of State were made.
What you'll see the administration do is take actions that preserve and protect that information and deny the Chinese Communist Party access to the private information that belongs to Americans
TikTok were quick to respond to this development and offered the following statement – noting that it's led by a CEO from the Americas and has a large team located within the U.S.A.
TikTok is led by an American CEO, with hundreds of employees and key leaders across safety, security, product, and public policy here in the U.S. We have no higher priority than promoting a safe and secure app experience for our users. We have never provided user data to the Chinese government, nor would we do so if asked.
Things remained fairly quiet until the 1st August, when reports surfaced suggesting that ByteDance would divest their stake in TikTok's USA operations — and then shortly after that Microsoft was interested in doing so, but had to pause their efforts due to Donald Trump's opposition. The next day, Microsoft confirmed reports, giving some insight into concerns from Trump — noting that such a deal was "subject to a complete security review and providing proper economic benefits to the United States, including the United States Treasury".
The Order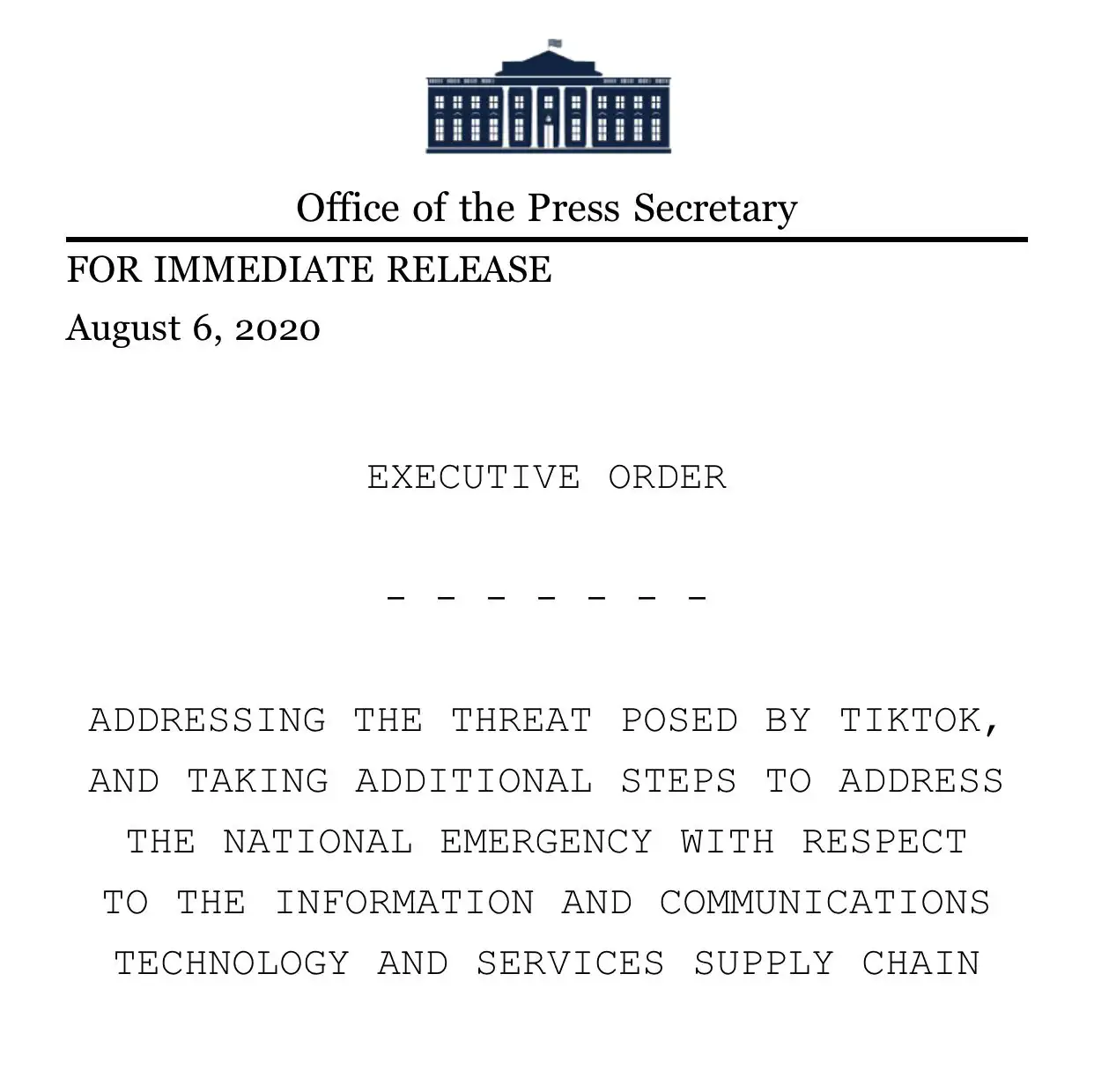 Then on the 6th August, the President of the United States of America issued 2 executive orders – banning transactions occurring between companies and individuals in the USA and ByteDance Ltd., the owners of TikTok and WeChat. The executive orders gave a 45 day grace period, set to lapse tomorrow – 15th September.
WeChat and TikTok are both massive social networks, amassing 1.2 billion and 800 million monthly active users respectively – representing the 5th and 7th largest social networks (as of July 2020) globally.
Shortly after came news that Oracle was also interested in snapping up TikTok's USA operations, and then by rival service Triller in late August.
On August 24th, TikTok announced that they would be suing the Administration of the United States of America.
What we encountered instead was that the Administration paid no attention to facts, dictated terms of an agreement without going through standard legal processes, and tried to insert itself into negotiations between private businesses.
The Response
On the 31st August, China entered the ring, somewhat quietly. China's Commerce Ministry added additional items to their export control lists — namely artificial intelligence technologies and data analysis for personalised recommendations.
Nearing the deadline and with no seemingly no deal, Donald Trump affirmed that there would be no extension to the 15th September deadline.
In the early hours of this morning, 14th September, Microsoft issued a short statement informing that ByteDance would not be selling TikTok's US operations to them — as the seeming frontrunner, this left little hope that TikTok would continue to operate within the United States of America.
And then came reports that Oracle had won its bid to operate the USA operations of TikTok.
The Future
Though Trump's deadline for ByteDance to come to some deal is set to lapse tomorrow, the first order comes into place on the 20th September — with the second order, forcing ByteDance to divest all its USA assets of TikTok.
For now, it seems probable that TikTok will be in the hands of Oracle — though perhaps the underdog in this fight, Triller, will be at the helm of a rapidly growing social media platform. Only time will tell…